Vacancies: Media Team/Stadium Announcer/Commercial Assistant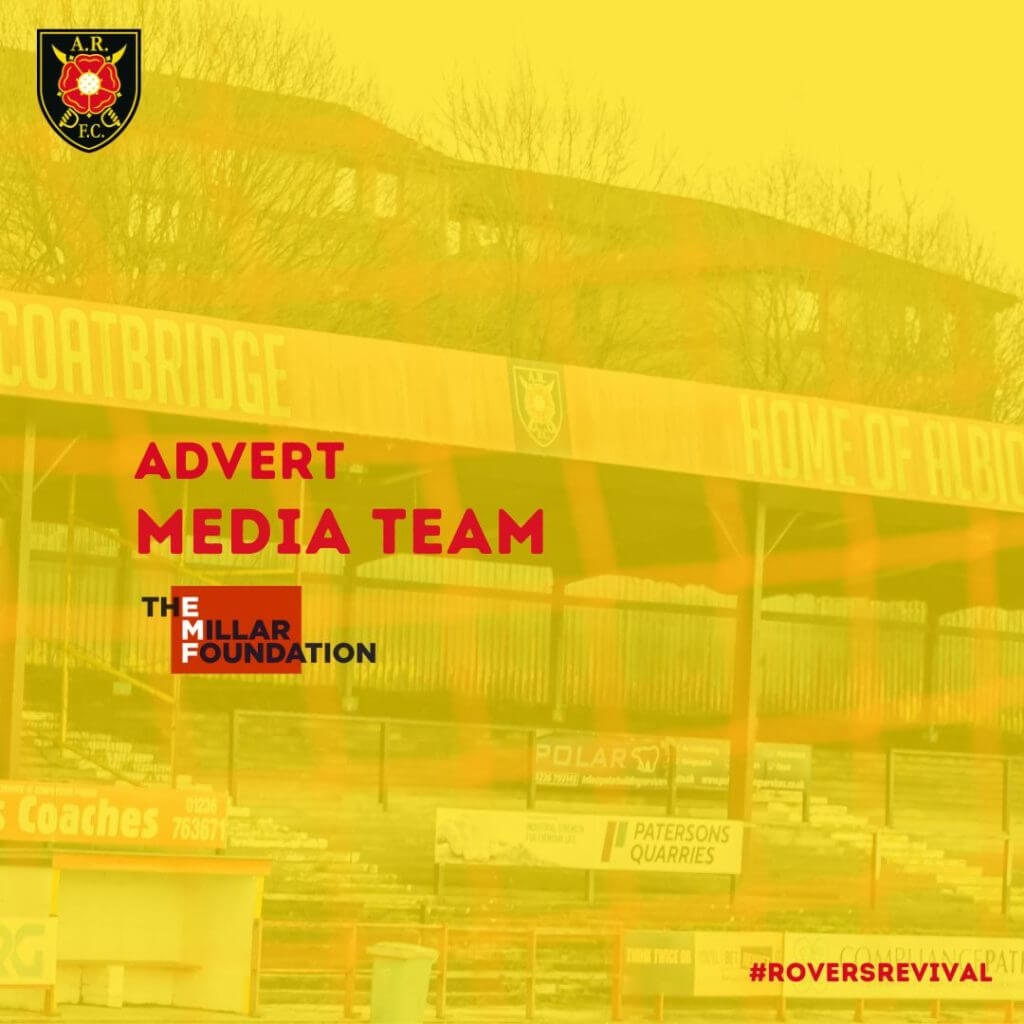 Covering Albion Rovers over the past year or so certainly hasn't come without its challenges for our team of media volunteers.
But they have all played a part in helping to ensure our supporters have been kept up to date win, lose or draw – and crucially, they have done it skillfully in an entertaining but professional manner.
As we enter pre-season, the club are now seeking applications from highly-motivated individuals to take on the reigns from our current crop as we enter a new era.
Our output now is based around our #RoversRevival slogan and we want to convey through our social media that we are a club that is embracing our new start in the Park's Motor Group Scottish Lowland Football League. We want to be forward-thinking, honest and creative with how we do social.
---
Working alongside the current media stalwarts who help head up the group – you will play a part in, well, whatever you choose. We'd imagine it would tie into developing the Albion Rovers' brand, our marketing & communications plan, our media relations with the local press, how our social media looks, you know that sort of thing.
Even if you don't quite know what it is yet you want to do, we can help point you in the right direction. On the same token, you may apply with your eye on a very specific role, and that is great too.
We are after people who are committed. Like all football clubs, nothing really ever seems to stop and things are always in motion. Our social media platforms are really strong and are ever-growing, we now have a brilliant photographer (Phil Dawson) who has helped us up our game too. Each month last season, we averaged around £2 million impressions on our Twitter account.
From writing and creating website articles to running and posting on our social media pages to completing our matchday media tasks, there is always a job to do.
The main duties you would help out with would be:
Content creation including written articles, features and match previews/reports for the club website.
Content creation for the club's social media and YouTube channels including videos and player/manager interviews.
Provide live matchday Twitter updates.
Control the club's Instragram story on a matchday.
Conduct pre/post-match player and manager interviews for the club's platforms.
We are also on the hunt for a stadium announcer. You could be the voice of Cliftonhill and help keep supporters informed with match action, half-time scores and other important announcements on matchdays. You'll also be responsible for the pre-match and half-time music.
These roles are voluntary and part-time and would ideally suit a student undertaking a qualification within a media or sports field.
We can't offer anything other than this, but we have had great success in the past with our volunteers going on to bigger and better things.
And thanks to our partnership with Mark Millar and his charity The Millar Foundation, we have some funds available to directly influence and aid what the media team gets up to at the club.
We love to shout about our talent. Taylor Murray, who has been part of the team managed to bag his first job as a journalist after volunteering with us, and he now works at the Glasgow Times.
Our current Media Lead, Ben Kearney, also got his first job after helping out the club and is currently the Sports Reporter at the Falkirk Herald.
He said: "We had a lot, and I mean a lot, of really forgettable moments last season, but I wouldn't change being here in this role for the world. Albion Rovers hooks onto you and it doesn't let go. The people you will meet will be your pals for life.
"Our media team last season did a fantastic job of keeping fans up to date and they covered our matches admirably, even in the circumstances we found ourselves in.
"It is the most fulfilling thing in the world to see people come into the club in the position I was once in (a very shy wee guy) and turn into proper professional media practitioners.
"We are now on the hunt for our next cohort of media volunteers that will carry on the great work that has already been done by those before them."
---
Finally, we are also on the hunt for a Commercial Assistant to help drive revenue growth and increase the club's visibility in the community. 
They will organise the development and implementation of strategies to increase the club's revenue through sponsorships, advertising, and partnerships.
This position would include a generous commission scheme. Earnings will be related to your degree of success in this post.
Key Responsibilities:
Identifying and securing new sponsorship opportunities with local and regional businesses
Building relationships with existing sponsors to ensure their continued support
Developing and implementing advertising and marketing campaigns to increase the club's visibility in the community
Identifying new revenue streams through partnerships and collaborations
Coordinating and managing events and promotions to drive ticket sales and increase attendance at games
Keeping abreast of industry trends and competitor activity to ensure that the club remains competitive
Qualifications and Skills:
Strong understanding of the Scottish football landscape and local market.
Excellent communication and interpersonal skills.
Strong analytical and problem-solving skills.
Proven ability to build and maintain relationships with key stakeholders.
Strong project management and organizational skills.
Excellent budget management and forecasting skills.
Passion for football and a deep understanding of the sport
Experience in Marketing and Business Administration, or a related field is preferred.
The ideal candidate will have a passion for football and a deep understanding of the Scottish football landscape and local market. They will also have the skills and experience to develop and implement successful commercial strategies that drive revenue growth and increase the club's visibility in the community.
---
To apply for any role listed, please complete the below form via the link.
https://forms.gle/axSrUWBSstcYKgkN8
We'll be in touch with everyone who applies. We will set up interviews that will be led by our current media team, and they will be able to give you a first-hand account of any queries you may have.
Our plan is to interview candidates mid-July but we will be in touch sooner if we feel your application merits such.