Lesmahagow Juniors 2-4 Albion Rovers Reserves
The Reserves played their first game since December against Lesmahagow Juniors at Craighead Park in front of a decent crowd last night, comfortably winning 4-2 against their West of Scotland League opponents.
Julian Kouame opened the scoring with a shot from Lewis Guy's corner. A sweeping move started by Daniel Moran in his own half ended with the right-back finishing expertly after getting into the end of Kouame's cross at the edge of the box to score our second. Centre-back Sam Greenwood scored a third from another corner then Kieran Dolan, one on one with the goalkeeper, completed the scoring.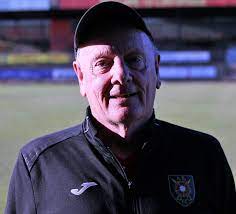 Reserves head coach Graeme Liveston said: "It was an exciting attacking display with Paul Fee and 'A' trialist running the midfield, our wingers Julien Kouame and Fernando Moniz were a real threat as were strikers Kieran Dolan and Ryan Devine.
"Considering it was most of the lads first minutes this year, they done extremely well."
TEAM: Smith; Moran, Fernie, Greenwood, Guy (Trialist); Fee, Trialist; Kouame (Trialist), Devine (Sweeney), Dolan, Moniz (Choudhry).