Kelty Hearts 3-1 Albion Rovers
By Connor Ryan
Albion Rovers starting XI: 1. Cameron Binnie, 2. Aaron Lynas (c), 3. Lewis Wilson, 4. James McGowan, 5. Sean Fagan, 6. Jamie Leslie, 7. Scott Roberts, 8. Blair Malcolm, 9. Kyle Doherty, 10. Callum Wilson, 11. Charlie Reilly
Subs: 12. Tom Leighton, 14. Alfie Robinson, 15. Max Wright, 16. Joshua Jack (replaced Scott Roberts on 78'), 17. Harry Stone, 18. Adam Fernie (replaced Aaron Lynas on 46'), 19. David Wilson (replaced Blair Malcolm on 69')
Kelty Hearts starting XI: 1. Darren Jamieson, 4. Douglas Hill, 7. Joseph Cardle, 8. Thomas Reilly, 9. Nathan Austin, 10. Jamie Barjonas, 11. Kallum Higginbotham, 14. Ross Philp, 17. Maksym Kucheriavyi, 23. Kieran Ngwenya, 25. Thomas O'Ware
Subs: 3. Reis Peggie, 12. Michael Tidser (replaced Maksym Kucheriavyi on 69'), 15. Daniel Finlayson (replaced Douglas Hill on 69'), 16. Robbie McNab (replaced Thomas Reilly on 84'), 20. Josh Donaldson, 21. Botti Biabi (replaced Joe Cardle on 75'), 22. Alfredo Agyeman (replaced Kallum Higginbotham on 75')
Rovers fell to a third straight defeat as they lost 3-1 to league leaders Kelty Hearts at New Central Park.
Despite a strong second half performance from Brian Reid's men, the game would end in defeat which Rovers will feel hard done by due to the chances they created throughout the game.
It was the worst possible start for Rovers as Kelty Hearts would open the scoring in the first minute with familiar goal-scorer against Rovers Nathan Austin getting in behind the defence and sending a low strike past Cameron Binnie.
The first chance for Rovers would arrive in the 5th minute with Kyle Doherty managing to beat a defender and send a shot at goal but his shot went well over the bar.
Another chance would arrive for Kelty Hearts on the 20th minute as Joe Cardle was played through on goal but Binnie done well to get out quickly and get a hold of the ball.
Kelty Hearts would double their lead with ten minutes left of the first half as Jamie Barjonas scored his first of the game by dancing round the Rovers defence and beating Aaron Lynas before slotting home a low shot.
With the start of the second half, Rovers would make their first substitution with Adam Fernie being brought on for Aaron Lynas.
Binnie would be called into action early on as he was forced to tip a goal bound shot from Kieran Ngwenya over the bar.
Rovers would get back into the game just before the hour mark as Charlie Reilly would pull off a brilliant mazy run into the box and back heel the ball to Callum Wilson in space who's calm finish halved the deficit.
Another massive chance would appear for Rovers in the 66th minute as Scott Roberts would back heel the ball to Blair Malcolm in the box but his shot went under Darren Jamieson and then gathered by the Kelty Hearts keeper.
David Wilson would be brought on for Blair Malcolm a minute after Malcolms big chance in order to give Rovers some more attacking options as they went chasing an equaliser.
Jamieson would be called into action once again as he pulled off a brilliant save to deny Scott Roberts with just under 20 minutes to play.
Joshua Jack would be brought on in the 77th minute and would replace Scott Roberts.
Charlie Reilly would receive the first yellow card of the game for Rovers after complaining to the referee over a decision with ten minutes left to play.
Kelty would put together a good passing move around the Rovers defence which led to Barjonas smashing the ball past Binnie to grab his second of the game and put the game to bed with a 3-1 score line.
Callum Wilson would have a chance for Rovers in the last minute, with his shot parried over the bar by Jamieson.
The game would end 3-1 to Kelty Hearts but Rovers can take positives from the defeat as some better finishing would have potentially seen them leave New Central Park with a point or all 3.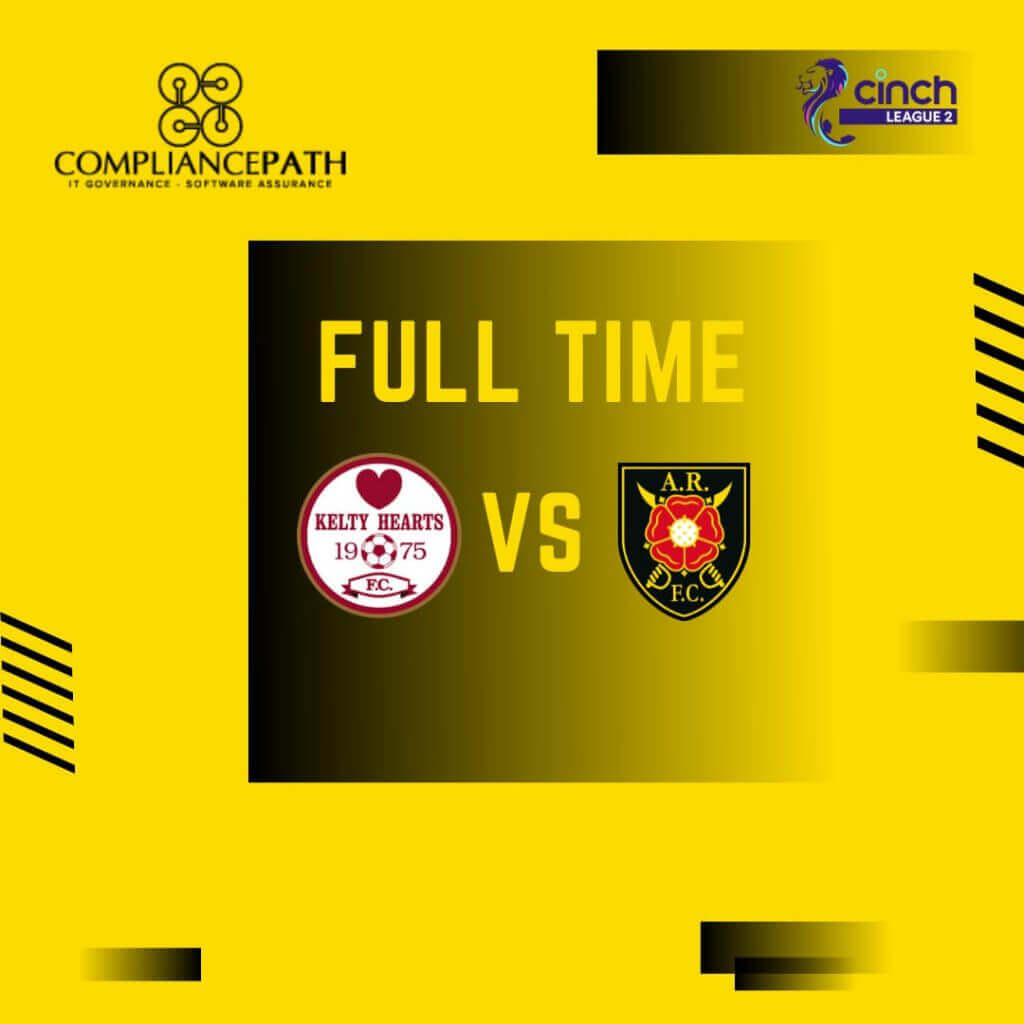 Rovers now turn their attention to Wednesday night where they once again meet Kelty Hearts at home as they look to better the result that they suffered today.
Goal-scorers: Jamie Barjonas (2), Nathan Austin, Callum Wilson
Bookings: Charlie Reilly, Kallum Higginbotham, Douglas Hill
Man of the match: Jamie Barjonas
Referee: Chris Fordyce
Assistant referees: Jonathan Bell and Paul McAvinue
Attendance: 635