An update from the Chairman
Dear all I hope you, your family and friends are keeping well during these difficult times. I thought I would take a few minutes of your time to provide an update on our beloved Albion Rovers. As the new season approaches we will be hopefully returning to a more normal football operation.
However, for the first few games of the new season we will be restricted in terms of fan attendance. Specifically, we will be operating with a reduced fan capacity of 150 for the first four home matches. I'm currently working with the board of directors to put in place a process that will see our loyal season ticket holders be offered first refusal on tickets for these first four matches. Please keep your eyes peeled for further information in the coming days.
We will of course, react to any easing of these restrictions without delay and you will be the first to know should anything change. You will know that I have been serving you and the club for many years, My preferred approach is to work quietly behind the scenes to do my best for the club. I continue to serve proudly as your chariman, a post which I have held since March 2020. Last season was incredibly challenging for everyone, not just for us as a football club.
I want to extend my personal heartfelt thanks on behalf of the board of directors to our fans, sponsors and volunteers for their loyalty, support and generosity over this very trying period. The board, volunteers and sponsors have been working hard behind the scenes to upgrade parts of the ground and stadium, none of which would have been possible without the support of the Monday and Thursday club members and the faithful volunteers who support us every week.
A huge thanks to everyone involved. Here are some of the things we've been doing to keep the ground looking as good as it can for a hundred year old stadium but most importantly keeping it safe
• The club shop has been refurbed to make it a community space and shop and thanks to the community trust for this.
• We are installing a disabled ramp into the community space/shop, making this accessible for everyone now. Again, thanks to the community trust for funding this.
• The outside toilets have had a complete makeover and we think we'll have the poshest toilets in cinch League 2.
• We've repaired and painted both sets of outside stairs, ensuring that they are safe for use by everyone • We've been tidying up the outside of the ground and weeding the area is like painting the Forth Road Bridge. "Frank, the machine Croall" pretty much looks after this on his own, so again, thanks Frank, we are absolutely delighted to have resigned Brian and his backroom team so early as this enabled Brian to secure the players he has, again very early on in the closed season.
We are all cautiously optimistic about what this season could have in store for us and I know you will join me in wishing Brian and the boys every success. The team have been in for closed season training for many weeks and it's absolutely brilliant to see them working so well together as a team. What's also really pleasing to see is that they get on really well, both on and off the field. We treated the team to a day out a few weeks ago as thanks for what they had achieved last year. From a fan perspective, it was great to see so many of our season ticket holders at our pizza and drinks day and it will be even better to see so many familiar faces back on the terracing as we kick of 2021/2022 season.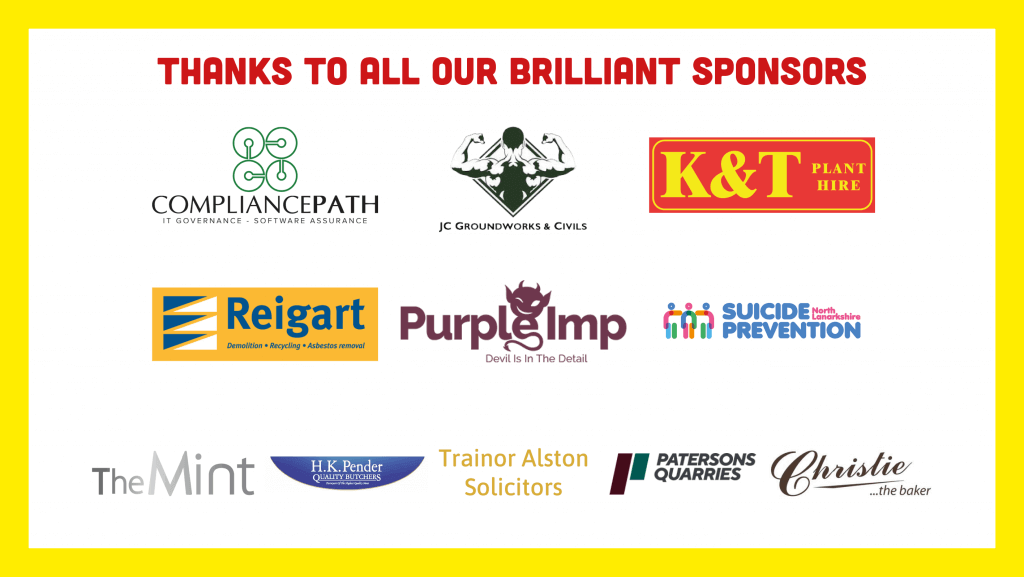 We really can't wait to have you back. Of course we still need to observe social distancing requirements, the wearing of face coverings and the use of hand sanitisers etc but I think we'd all agreed we'd pretty much do anything just to get back to football!! Our sponsors continue to be very generous and loyal to us. I want to express my thanks to Reigart demolition whom I am absolutely delighted to announce have chosen to continue their sponsorship with the stadium naming rights and we have agreed a 3 year deal with them. Thank you so much for your ongoing and continued support. Additionally, I'd like to recognise and thank our other brilliant sponsors CompliancePath who have chosen to continue supporting the club by renewing the front of our shirt sponsorship. JC Groundworks who have also chosen to continue sponsoring the shorts and sock sponsorship. I'd also like to welcome back and extend a huge thanks to K&T Plant Hire who have decided to support the club again by sponsoring the back of the shirt and making an incredibly generous donation. Thank you Pat!
We also thank Suicide Prevention for their ongoing support. We've welcomed new directors the club via the AGM in January and whilst we're still bonding as a team, it's clear to see what talent and skill we have around the boardroom table and we're very much looking forward to supporting the club move forward. Just as a reminder your board of directors are: Mark Hunter, Eddie Hagerty, Shaun Millar, Jordan Campbell, Liam Nugent, Craig McKeown, Alison McGowan and myself. You'll definitely see more of us on match days so give us a shout if you have any questions etc.
In summary, it's been a bit of a whirlwind for us with all that's went on but I do want to take time to make mention of a number of people as without their drive and hard work, we wouldn't be in such a good position. So I'd like to extend thanks to Albion Rovers Supporters Trust, Albion Rovers Community Trust, Eva Woodward, Colin Woodward, Ben, Jack and Terry Gillooly, Ben Kearney and all of the volunteers that made this possible. We look forward to all of you getting back to see these improvements. Colin works tirelessly behind the scenes and he, along with Terry ensures that match days run as smoothly as they can. Thank you Colin. Terry as our safety officer demonstrates huge commitment to us, on occasions driving from Doncaster and back on week days to ensure our health and safety is maintained and protected. I'm delighted to announce that Terry has a new deputy safety officer in Scott McGowan and we can already see the impacts this duo are having. Stay safe everyone and I really do hope to see you soon.
Ian Benton.