Albion Rovers 1-3 Tranent FC
By Connor Ryan
Albion Rovers team
Albion Rovers starting XI: 1. Ross Connelly 2. Adam Fernie 3. Scott Dunn 5. Sean Fagan 6. Callum Wilson 8. Dom McMahon 9. Niyah Joseph 14. Joe Bevan 16. Barry Duncan 20. Bright Prince 21. Conor Duffy
Subs: 4. Arnault Kasa 10. Alex McCaw 11. Tyler Denholm 12. Alan Reid 17. Fraser Walker 18. Reece Paterson 19. Josh Tran
Tranent FC
Tranent FC: 1. Kelby Mason 2. Kieran Sommerville 3. Robbie McIntyre 4. Ciaran Brian 5. Euan Bauld 6. Sean Murphy 7. Scott Gray 8. Scott McCrory-Irving 9. Cameron Ross 10. Broque Watson 11. Kallum Higginbotham
Subs: Sam Scott, Jackson Mylchreest, Euan Greig, Dean Brett, Aiden O'Malley, Ben Miller
Overview
Rovers fell to a 3-1 defeat on their return to league action as Tranent FC managed to comeback from Sean Fagan's early strike.
Goals from Ross Cameron (2) and Kallum Higginbotham secured the points for Tranent at Cliftonhill as Rovers failed to build on their recent Scottish Cup success
First Half
The first action of the match seen Ross Connelly forced into a save from Cameron Ross just three minutes in as both teams looked to attack from the get go.
Rovers first big chance would start just minutes later as Joe Bevan drove through the midfield by beating a few players before finding Bright Prince who dragged his shot just wide of the post.
An action packed first 10 minutes would see Rovers gain the lead with Sean Fagan blasting the ball into the back of the net from close range following a set piece.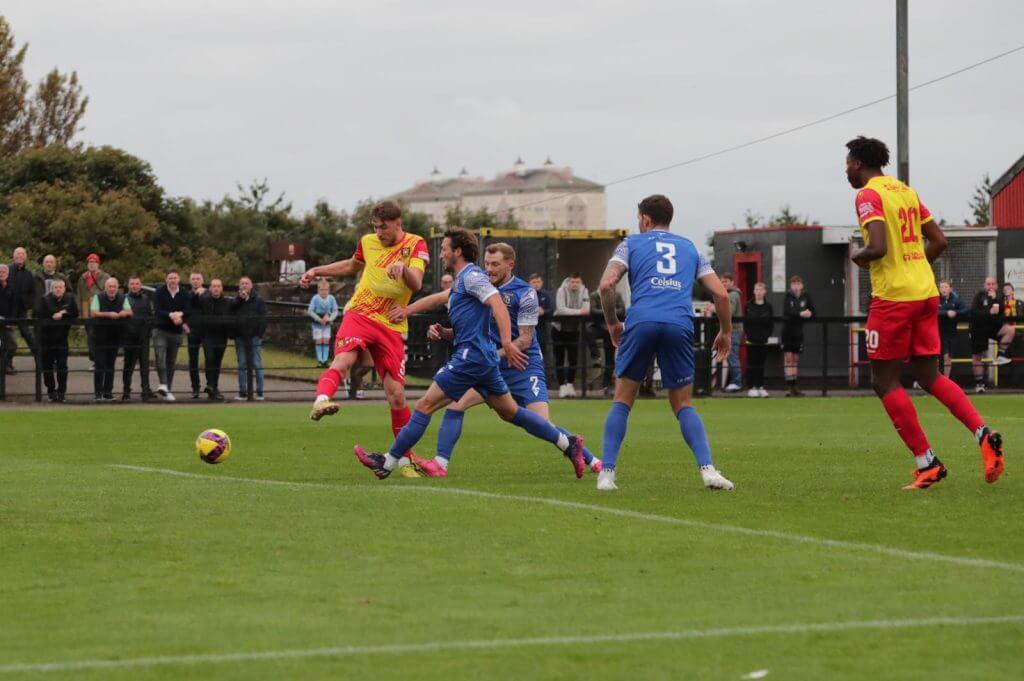 Rovers lead wouldn't last long as Tranent would equalise just a few minutes later as Cameron Ross would grab his first of the game with a close-range header, leaving Connelly with no chance.
Ross Connelly would be forced to make another one of his regular outstanding saves following Tranent's equaliser as he managed to tip Broque Watson's effort over the bar in spectacular fashion.
The game would start to quieten down after an exhilarating opening stage with Adam Fernie getting Rovers next chance in the 35th minute as he found space on the edge of the box and sent a powerful strike just over the bar.
Following this, Tranent would be awarded a controversial penalty in the closing stages of the second half which Kallum Higginbotham converted just past Connelly's left hand to put Tranent 2-1 up going into the break.
Second Half
Shortly after the start of the second half, Tranent would grab their third with Cameron Ross getting his second of the game following a defensive error from Rovers.
Rovers would attempt to get back into the game following Tranent extending their lead with Joe Bevan's dangerous free kick being deflected out for a corner, while Callum Wilson seen a strike from the edge of the box float over the bar.
Despite Rovers continued pressure, Tranent goalkeeper Kelby Mason had very little to deal with as the Tranent defence did an excellent job of keeping the Rovers attack at bay.
With 15 minutes left to play, substitute Arnault Kasa had a point blank shot in the box blocked by the Tranent defence which was really Rovers last chance of the game.
The match ended 3-1 with Rovers now residing in 14th place on 10 points from 7 games.
All focus now turns to next Saturday with an away trip to 6th placed Civil Service Strollers. Ticketing information will be released later on in the week.
Stats
Goal scorers: Sean Fagan, Cameron Ross (2), Kallum Higginbotham
Bookings: Barry Duncan, Ciaran Brian