The Robin Marwick Collection
Summerlee Museum. February 13th- March 6th 2016.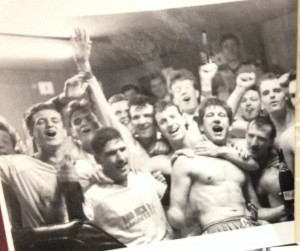 A display of Robin Marwick's fantastic collection of Albion Rovers Football club items from North Lanarkshire Archives. Robin Marwick began documenting his lifelong love affair for his football club by keeping handwritten records of all things Albion Rovers in his notepads and scrapbooks. He formed a collection of items which spans the entire history of Albion Rovers to date and also includes; photographs, newspaper cuttings, club documents, match programmes and even telegrams.
The collection not only showcases Robin's passion for the history of Albion Rovers but also provides a fascinating insight into Scottish football and the wider social history surrounding it.
Robin Marwick (1936-2015) was known to many as the club historian of Albion Rovers and wrote two books about the club, 'The Boys from The Brig; The Life and Times of Albion Rovers'' and 'Champion Albion'.
Have a look out our Flickr page to see a selection of digitised highlights from the collection.